Your donations to the SASH Charity cancer fund have enabled the chemotherpy team at East Surrey Hospital to refurbush the hospital's chemotherapy suite, to transform the environment, and make it more inviting, comfortable and safe for patients.
After returning from Gatwick Spire in April 2021, where the chemotherapy team relocated during COVID-19 in order to keep patients safe and away from the main hospital, the team wanted to give the chemotherapy suite at East Surrey Hospital a makeover, to modernise the suite and make it more inviting for patients.
The team applied to SASH Charity for funds to upgrade it. Any member of staff in any part of Surrey and Sussex Healthcare NHS Trust (SASH) can apply for funding for an idea that helps the Trust go above and beyond for patients and staff.
We were absolutely delighted to support the idea, and to fund the transformation from the SASH Charity Cancer Fund. Using a grant of £27,451, the team were able to give the suite a complete facelift with 'glamour wraps' providing floor to ceiling images of lavender fields and meadows with sunsets, all in calming colours. Your donations also helped us provide ten new specialist, reclining chemotherapy chairs, which together with the new wall images help to make the environment brighter, safer, and much more comfortable for patients to be in, while they receive their vital chemotherapy.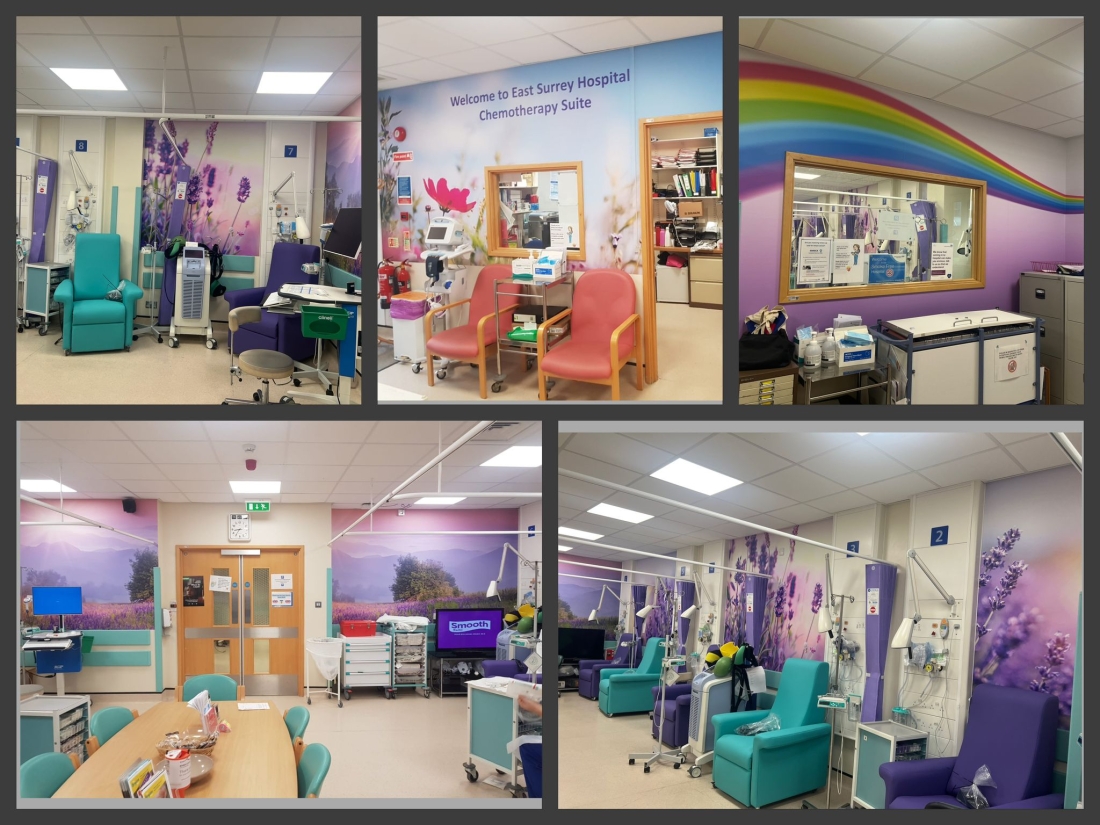 Claire-Marie Williams, chemotherapy manager, said: "The feedback from our patients coming for treatment has been overwhelmingly positive. They feel the unit is warm and inviting now, generating a sense of calm and welcoming. To hear our patients talk about how lovely the new unit is, and to see the smiles on their faces, is just wonderful for us as a team. We are extremely grateful to all who donated to SASH Charity."
Andrew Bickerdike, Head of SASH charity said: "It's really moving to see the difference that donations to the SASH Cancer Fund have already made. Claire and the team had the vision to carry out this transformation of the unit, and thanks to donations to the cancer fund we've been able to make it a reality.
"I'd like to say a sincere thank you to everyone who fundraises or donates to the SASH Charity Cancer Fund. There's more we want to support the team to do across cancer services at SASH, including East Surrey Hospital, East Surrey Macmillan Cancer Centre and Crawley Hospital. If others would like to help us do more for people affected by cancer in East Surrey and Sussex, they can donate to help patients here: www.justgiving.com/campaign/sashcancerfund."