Thanks to huge support from our local community, NHS colleagues, Gatwick Airport staff, friends and families, we are genuinely delighted to announce that SASH Charity has been chosen as the new charity partner for the airport.
Following an application process and shortlisting, airport staff voted for one of four shortlisted charities, and we are delighted to report that staff chose to support their local hospitals.
The partnership will help us do much more for East Surrey Hospital, as well as SASH NHS Trust services at Crawley and Horsham Hospitals, and elsewhere in Surrey and Sussex.
Our full press release is below. You can find out more here.
---
Surrey and Sussex Healthcare NHS Trust hospital charity announced as Gatwick Airport's newest charity partner
It has been announced today (Friday 7 February 2020) that SASH Charity, charity for Surrey and Sussex Healthcare NHS Trust (SASH) hospitals, was voted by Gatwick staff as the newest charity partner for London Gatwick Airport. The partnership will begin in April 2020 and SASH Charity will work with the airport for two years, to raise funds which will help SASH hospitals go above and beyond for patients and families.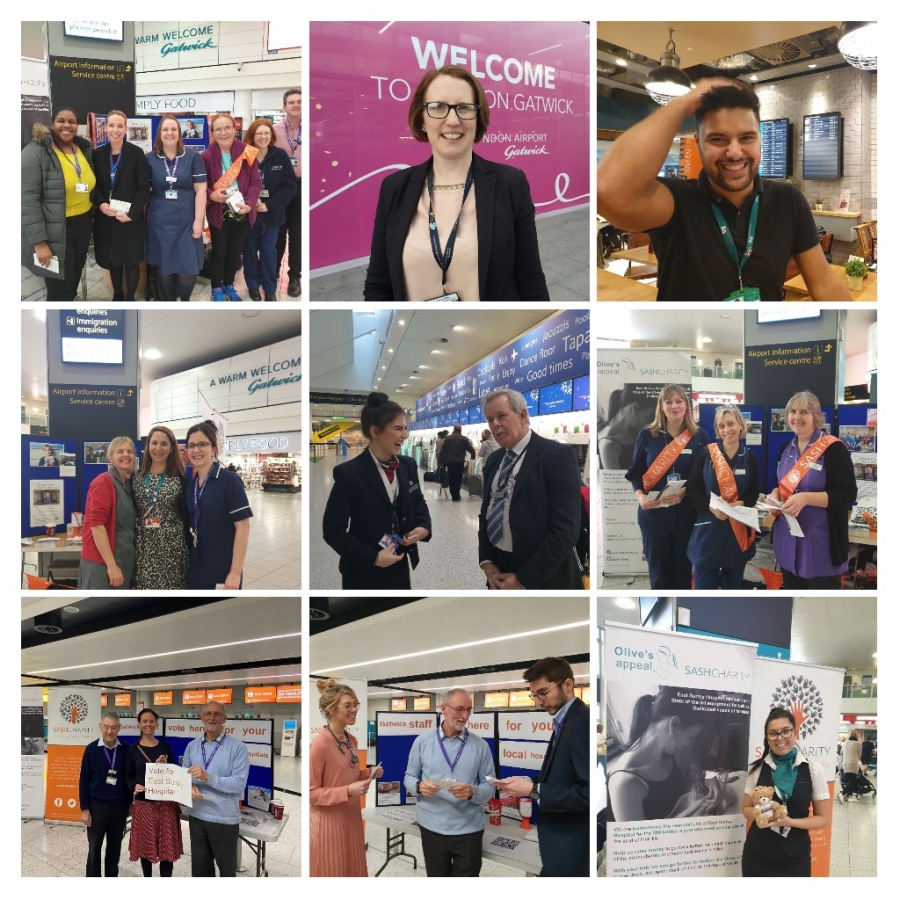 Michael Wilson CBE, chief executive at Surrey and Sussex Healthcare NHS Trust said: "We are delighted that our hospital charity will partner with Gatwick Airport and we look forward to working together and developing our partnership during the next two years. Money raised will help to improve patient experience by funding ideas which will enhance and create great experiences for patients of all ages and staff at the hospitals of Surrey and Sussex Healthcare NHS Trust, making a real difference to the lives of local patients and their families."
Andrew Bickerdike, SASH Charity manager said: "This new partnership has huge potential to benefit local people, and we are excited to be working with colleagues at Gatwick Airport. Through the shortlisting process and the staff vote, we've been really humbled to see the incredible support for the local hospitals from the Gatwick community."
"We've got lots of exciting ideas for our partnership, which we hope will capture the imagination of passengers and staff. Both to raise funds, and also to transform the profile of the charity, so that in future we are able to do much more for our local hospitals, right here in Surrey and Sussex."
The partnership announcement comes after the charity launched a major fundraising campaign, Olive's Appeal. The appeal aims to help East Surrey Hospital's new neonatal unit go further for babies and families. The brand new unit has already completed the first phase of building works, and fundraising will help provide additional state-of-the-art equipment and better facilities for families whose babies arrive very early or seriously ill.
Uniquely home to a large mix airline operators, in 2018 Gatwick Airport served more destinations than any other UK airport, with a total of 46.1 million passengers travelling through to variety of destinations. With around 24,000 staff working across the Gatwick campus and 3,000 people employed by Gatwick Airport, working together with the charity will bring help to make a difference to services at the hospitals.
SASH joins Kent, Surrey and Sussex Air Ambulance Trust, and Gatwick TravelCare as Gatwick Airport's charity partners. Gatwick's fundraising for the Air Ambulance has recently hit the £100,000 mark since the partnership started in April 2018.
Melanie Wrightson, community engagement manager at Gatwick Airport said: "We are delighted to welcome SASH on board as our newest charity partner. Staff at Gatwick and within the wider Gatwick family take great pride in supporting our charities and helping to raise vital funds to support them. It's a key pillar of our extensive work within the local and regional community.
"We are really looking forward to getting started with the partnership and are excited to be able to support SASH with their ongoing projects, including raising money to fund vital equipment and enhanced facilities for the half a million people SASH serve. It's a charity close to the hearts of many at Gatwick, and working with SASH provides a fantastic opportunity to support a huge number of local people in need, from new-born babies to young children, teenagers, adults and pensioners."