Donations from the local community support patients living with dementia.
Local people in Surrey and Sussex have helped to support patients living with dementia watch live music via tablet devices while they're in hospital.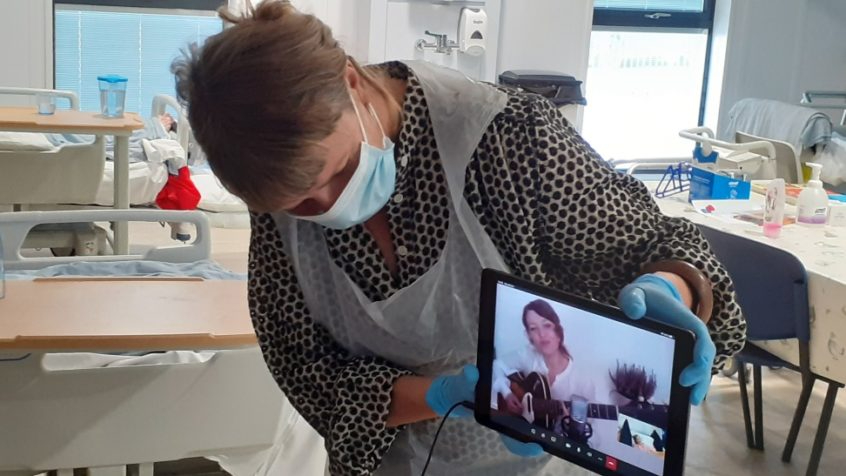 Thanks to generous donations to SASH Charity, Surrey and Sussex Healthcare NHS Trust has piloted an adapted programme from Wishing Well Music for Health which brings live, bespoke and interactive music into East Surrey Hospital via tablet devices, using technology to keep people safe from COVID-19. Research suggests that live music has proven power to engage people and draw out their personality for patients even if they have advanced stages of dementia.
Chris O'Connor, consultant Admiral nurse said: "SASH Charity have supported a number of dementia projects at East Surrey Hospital and we are continuously looking at ways we can improve the experience of our patients. Over the past few years we have introduced a number of initiatives but more recently, the challenge of Covid-19 and the subsequent lockdown restrictions have had an impact on the activities we were able to run in the hospital."
"When Wishing Well came up with bringing music virtually to the patient bedside, it meant that we could restart some of these positive patient experiences and it has shown that we can adapt what we offer in the new situation we find ourselves. The feedback from patients has been overwhelmingly positive and the impact the music has on their wellbeing is clearly apparent. A special thanks to Jo White and Lizzy Carey coordinating this fantastic programme."
Jo from Wishing Well, who focuses on patient engagement as part of the project said: "Coming back to work at SASH has been an important opportunity for us to develop a new way of working in response to the pandemic and we are so very pleased to be able to reach older people in hospital with our music again. I never would have thought that this online bedside approach would work but it does and we a grateful to the hospital for supporting us so brilliantly."
SASH Charity have also contributed to improving patient waiting areas and the purchase of three new incubators for premature or unwell babies being cared for at East Surrey Hospital's Neonatal Unit. Funding has also supported trust-wide campaigns as part of continued work to make SASH one of the safest NHS Trusts in the country, as well additional resources to support a coaching programme for people moving into key leadership roles.