Thanks to your hard work, donations and fundraising for Olive's Appeal, we are delighted to announce that building work will commence shortly on a new family room for mums and dads in the neonatal unit at East Surrey Hospital. This builds on the rainforest theming you have already been able to provide throughout the whole unit, and is a big step for families with premature or very unwell babies who are in the unit.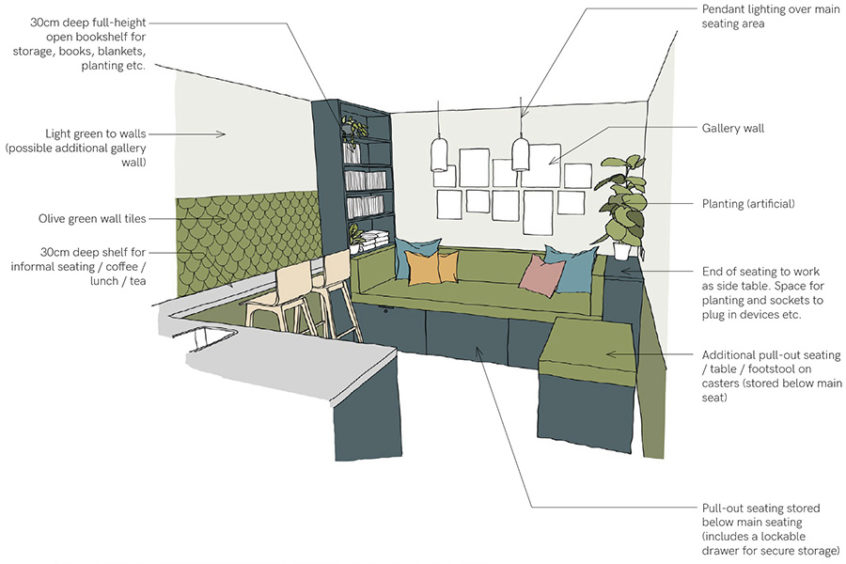 Click here to hear from Olive, and mum, Keata (who spent the first 4 months of Olive's life in the unit) about the new room, and why your support will make such a big difference for families.
There's a lot more we want to do (funding two more state of the art neonatal incubators, enhancements to every single cot space for mums and dads in the unit, and more. Read more on exactly how your donations will help local babies and families here.
To support the appeal DONATE NOW.
The new room has been designed with input from families who have been in the neonatal unit, and is designed to give a new space for new parents to step away from the clinical environment for a rest/respite. It is designed to provide a space which feels different to the rest of the unit. A grown up area which doesn't feel like a hospital, for a cup of tea, a rest.
You can read more here on how your donations to Olive's Appeal are already helping families. You've already helped provide art/theming through the whole unit, and now the new family room. With your help, there's much more we want to do now for local families facing the stressful time of having a premature or unwell baby. Specifically:
Raising another £55,000 for two more state of the art incubators and related equipment. We are aiming to provide five of these top of the range incubators in total.
Providing additional facilities (beyond what would be expected), including reclining chairs and breast pumps for every family space in the unit, so mums don't have to wait for equipment to become free, and there's always somewhere super comfortable to sit to feed the new baby, or for a partner so sit.
As always – thank you so much for your support. Your support will help hundreds of families every year at an incredibly challenging and stressful time.