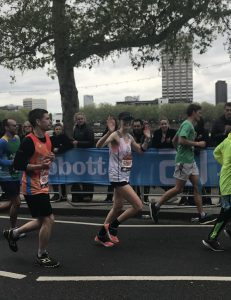 On Sunday 28 April, three intrepid runners took to the streets of London to run the 26.2 miles of the London Marathon for SASH Charity.
We think this is an amazing, generous, and inspiring thing to do, so just wanted to say a public, thank you to Laurel, Mark and Ed, for the miles they put in, for modelling our charity T-Shirts & running vests on the course, and for all their fantastic fundraising. You really are an inspiration to us all.
Interviews with the runners, and more photos from their fantastic runs and fundraising are over on our facebook page at www.facebook.com/sashnhscharity
All three runners made it round, with some hugely impressive times too! Between them they've raised in excess of £4,500 in total through the runs themselves and other fundraising. This will help our hospitals (and specifically in this case, the neonatal intensive care unit at East Surrey Hospital go above and beyond for families right here.
If you've been inspired to run for charity, and would like to support your local hospital here at SASH, we can help, with SASH T-Shirts, running vests, and promoting your fundraising.
The ballot to enter next year's London Marathon is now open online here, and before that (in September), we are an official Charity Partner of Run Reigate, one of the country's top half marathons, and family running events. It's hugely exciting to be part of such a large local event, and we'd LOVE to have as many members of the local community as possible running for patients and staff of East Surrey Hospital / SASH NHS Trust.
We have a number of free places available for the run, for people who want to run for SASH.
Contact us for more details at sash.charity@nhs.net