We've had a sneak preview behind the scenes as the new unit takes shape. Here's a quick update from Andrew at SASH Charity on how things are developing.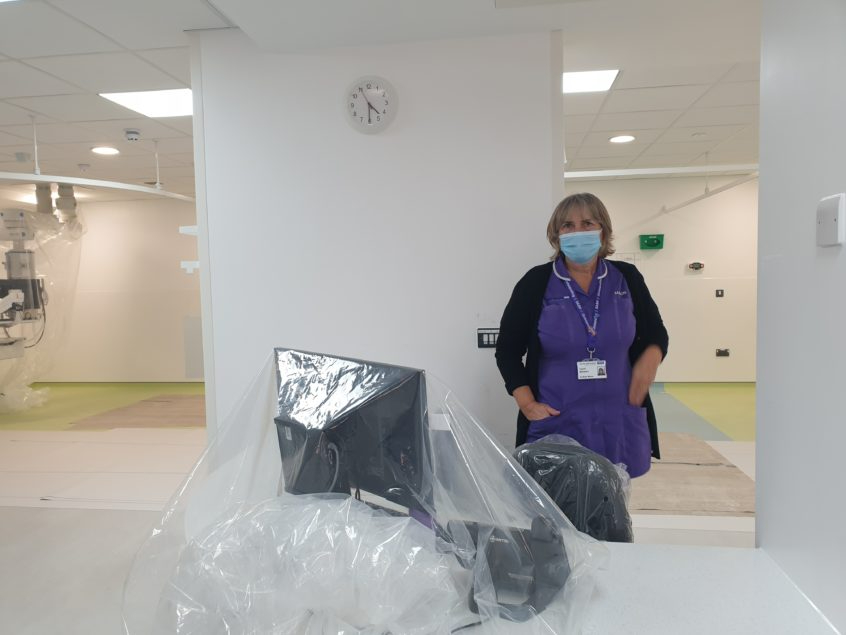 Olives Appeal
In September 2019, inspired by Olive, who is now 4, but who was born more than 3 months early, we launched Olive's Appeal, to invite our local community to help transform the neonatal unit at East Surrey Hospital, for the five hundred local families each year whose babies arrive very early, or are unwell in the first days of life.
I wanted to write and update you on progress to date.
Firstly – thank you! Before we started, we had no idea the appeal would capture your imaginations as it has done. We didn't know whether we'd raise any money/what would be possible.
I'm absolutely delighted to report that with your help, Olive's Appeal has already raised over £100,000.
Every penny of this will be spent on enhancing the facilities for babies and families in the new unit.
Already we've been able to fund art/theming throughout the brand new unit (going up on the walls as I write this), and we hope to shortly be in the position to fund a number of brand new incubators, as well as helping create new room for families, designed by neonatal family members, with a local architect, through our friends at neonatal family support charity Embrace.
These are things our mums, dads, neonatal staff, and the babies in the unit will be able to feel, and they're happening because of your support.
Has Covid-19 stopped us?
It turns out that babies do not respect lockdowns. Nor do they believe in things like pandemics. So our maternity services at SASH, including our neonatal unit have had to adapt to the challenging circumstances of Covid19, to continue to provide safe, compassionate care through this unprecedented challenge.
As the hospital charity, we've also had to adapt, through creating a new staff welfare campaign – to get support quickly to the staff across the whole of our hospitals who are keeping everything working safely, while caring for people with covid 19.
Alongside this, Olive's appeal continues. It will continue until September 2021, as there's more we want to do for families.
Major building work on the new neonatal unit is nearing completion. The team have moved into approximately ⅔ of what will be the completed unit, with some temporary walls now being removed ahead of moving into the whole area, including a brand new neonatal intensive care area.
Once the unit opens, there's more we want to do. Our aim is for this unit to be far beyond what would normally be possible. To quote the Chief Executive of SASH NHS Trust, Michael Wilson CBE, "A five star facility".
More work to do
Once we've funded additional state of the art incubators, the art/theming, and enhancing the new family room, we hope to go further for families in the unit, through providing additional equipment for their comfort, for example reclining chairs for every family in the unit, suitable for staying comfortably next to the cot/incubator, and/or for mums to feed their new babies.
Thank you.
Your support for the appeal, and for babies like Olive, has been humbling, and genuinely inspiring. With your help, in the coming 18 months we'll go even further.
The timeline so far…
Here's just some of how our brilliant local community has come together to help create this new unit.
September 2019; Olive's Appeal launched, with a team of 37 people at Run Reigate raising over £12,000
Christmas 2019: Great support from our local community around Christmas. From schools to churches, running clubs and businesses. read more here.
February: Local family charitable foundation the Peter Harrison Foundation provide a major grant to the appeal. To fund two state of the art incubators. This major donation puts Olive's Appeal at over £100,000.
March: East Surrey Dance Festival supports Olive's Appeal. With six performances over 3 days. Over 3,000 local mums and dads kindly donating through programme collections. (Take a look at our instagram or facebook pages for some of the pics!).
March: The Morrisons Foundation: The charitable arm of Morrisons Supermarkets confirm a significant grant, to fund a new incubator in the unit.
May: Major building work on the unit nears completion.
To September 2021….. Olive's Appeal continues. To help us go further for local families. We want to:

Fund another two top of the range Babyleo incubators
Provide every mum in the new unit with a reclining chair for breastfeeding or for partners to use.
Help make the new overnight rooms super comfortable, like a home from home rather than a hospital room.
---