A new exhibition of illustrations has been installed at East Surrey Hospital to raise awareness of the symptoms of Parkinson's disease.
Many people think that Parkinson's, an incurable degenerative condition, is just tremor and slowness of movement, but there are more than 40 possible symptoms. Many symptoms do not involve movement (they are known as non-motor related) and are therefore more hidden.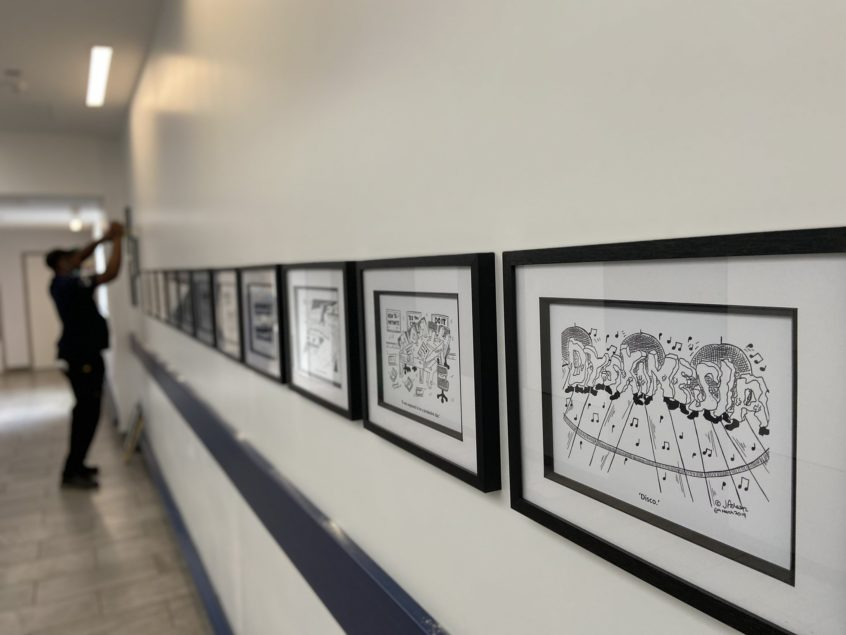 This means that people living with the disease have extremely complex individual experiences, with their condition deteriorating over time. There are 145,000 people living with Parkinson's disease in the UK and two people every hour are told they have the condition.
'Parkinson's Portrayed' is a series of hand-drawn illustrations, which aim to educate people about the symptoms and improve understanding. The artist, Dr Jonny Acheson, is an emergency medicine consultant in Leicester who was diagnosed with Parkinson's disease in 2016. Surrey and Sussex Healthcare NHS Trust (SASH) is the first NHS trust outside of Leicester to display the pictures. Dr Acheson hopes that other hospitals will also host them in order to improve knowledge and encourage better care for people with Parkinson's while they are in hospital.
SASH Charity, which supports East Surrey Hospital and all of the services run by SASH, funded the exhibition.
Clare Addison, formerly one of our surgical matrons and now lead nurse for adult safeguarding has been instrumental in securing the illustrations. Clare said: "I am delighted that these illustrations are now on display. I hope that staff, patients and visitors alike will take a look and learn more about the variety of symptoms associated with Parkinson's. The more we know and understand about the symptoms and their impact on peoples' lives, the better we are able to look after those living with the disease when they are in our care."
"One of the most important things that as healthcare professionals we must appreciate, is that the medications taken to help alleviate and manage some of these symptoms are very time-critical. A missed or even slightly delayed dose will almost certainly impact on wellbeing. Advocating for getting medication on time must be a care priority for all of us".
Michael Wilson CBE, chief executive of Surrey and Sussex Healthcare NHS Trust, said: "We are committed to making care for people living with Parkinson's as good as it can be. These illustrations convey a really important message about how vital it is to understand the variety of symptoms. I would like to thank Dr Acheson and everyone involved in bringing this exhibition to East Surrey Hospital."
The artist, Dr Jonny Acheson, said: "Thank you to Surrey and Sussex Healthcare NHS Trust for hosting this exhibition. There are lots of symptoms associated with Parkinson's – some of these aren't visible, and therefore the hope is that these pictures help to explain them and the impact they have on people living with the disease. I am very grateful to Clare Addison and SASH Charity for making the exhibition at East Surrey happen."
Take a virtual tour of the exhibition