Thank you to everyone who made The Big SASH Thank You happen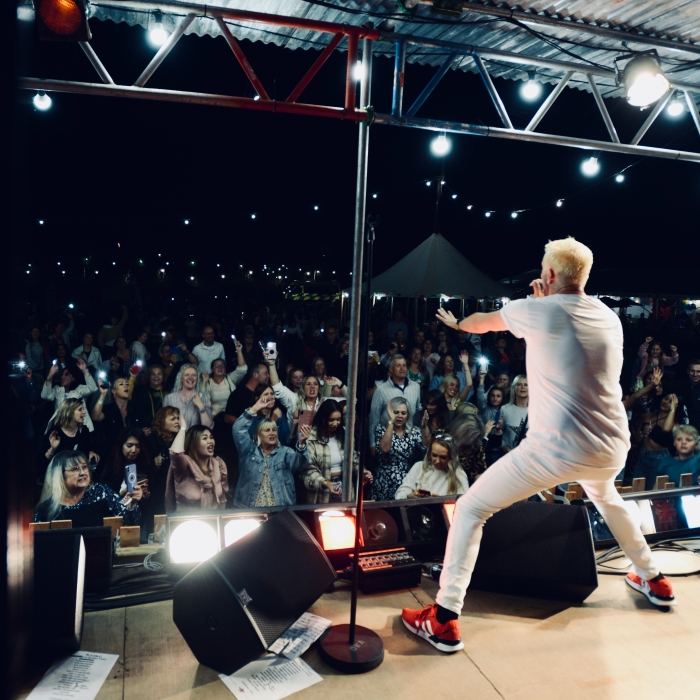 On 3rd September 2021, an Emergency Department sister and her son walked through the entrance gates of Flower Farm, near Godstone, Surrey, closely followed by 4 nurses whose families live on the other side of the world. The afternoon sun was shining, and there was a sense of anticipation in the air. A sense that something special was about to happen.
Little did any of us know how special it would be.
Over the following three days, over 6,000 NHS staff, family members and friends came to Flower Farm. To quote the farm "we laughed, we cried, we loved every second".
We want to say thank you to everybody who came and made the event what it was, and everyone behind the scenes (or on the stage!) who made it happen.
Thanks to funding from SASH Charity, and the incredible generosity and hard work of Farmer Patrick Deely and the whole Flower Farm team, the event was a three day thank you to staff for their hard work since COVID-19 began, and an incredible experience for all of us fortunate enough to be there. Photos from the event are available on our facebook page here.
What was The Big SASH Thank You?
The Big SASH Thank You was a three day thank you event for hospital staff. It was free to attend for anybody who worked at Surrey and Sussex Healthcare NHS Trust, who could also bring up to two adult guests, as well as children. The event ran from 4pm-10pm on a Friday, all day Saturday until 10pm, and all day on Sunday to accommodate people working different shift patterns. Thanks to Southdown buses, SASH staff could travel from Redhill to the event site free of charge, and back home until the event ended on a free shuttle bus.
Through the three days, there was a packed lineup of live bands on a main stage, acoustic acts on a smaller Marquee Stage, subsidised food and discounted drinks, and entertainment for children and adults alike. Entertainment included Mini Golf, face painting, punch and judy, story telling, balloon animal modelling, as well as sack races, giant jenga, noughts and crosses, and a huge tug of war lead by surgeon Karan Kapoor.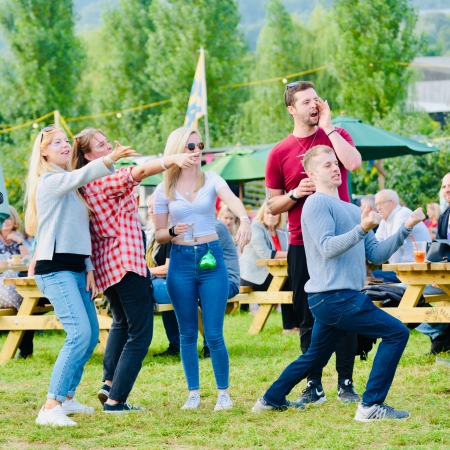 How did it go?
We were blown away by the uptake for the event, with our initial ticket capacity selling out in just 10 days, and needing to be doubled. Over 6,500 people booked tickets ahead of the event, with more bookings still being made as late as Sunday morning, as people who had attended on Friday and Saturday booked to come back, with different groups of friends or colleagues.
Highlights
Everyone who came will have their own highlights (do share them with us on social media by tagging @sashcharity) . Some memorable ones for us included
Seeing the first guest arrive after weeks of work and planning, an emergency dept nurse with her son, followed by 4 more nurses. Watching people (throughout the weekend) walk into the farm for the first time, with no idea what to expect, and discovering first the family field, then the main stage and marquees was really special.
Watching a field full of NHS colleagues singing Hey Jude as Rick Parfitt Jr and the RPJ Band brought 90mins of pure electricity and energy to the opening night. Thank you Rick!
Watching a top surgeon leading grownups and children in a huge tug of war in front of the main stage.
Farmer Patrick meeting SASH Chief Nurse, Jane Dickson.
Seeing people dancing and catching up with friends in the evening sun as Katie Markham sang with her band, and seeing the family field full of happy faces (and balloon animals).
Seeing the event closed by a local band (Randy and The Rockets) after three days of music and entertainment from around the country.
Some thank yous
This event was everything we hoped it would be, and more, thanks to a huge number of people. Including:
Farmer Patrick Deeley, Anton, and the whole Flower Farm Team. This simply would not have happened without them. Their work and commitment to making the event happen was extraordinary.
Everyone who donates to SASH Charity. Again – it's only thanks to your support that we can help make great things happen for hospital staff and patients here in Surrey and Sussex.
The bands, food stalls, suppliers, and entertainers, many of whom came and worked for a fraction of their normal fees – an incredible show of thanks to the NHS staff at the event.
The SASH NHS Trust leadership and project team who collectively helped to make it happen.
Everyone who came. The event was for you, and seeing so many colleagues, families and friends at The Big SASH Thank You absolutely made the event.
For more on Flower Farm, follow https://www.instagram.com/flower_farm_godstone/
For the latest on how SASH Charity helps in the hospitals in East Surrey and Sussex follow us on facebook, twitter, or instagram
To donate to help us do more – visit www.justgiving.com/sashcharity