During 2021, over 130 people took on running challenges to support their local hospitals here in Surrey and Sussex. It has been wonderful to see support from SASH colleagues, SASH Charity supporters, children and patients – all making a difference.
A variety of running challenges have been completed, such as; our biggest Run Reigate team to date, our Virtual London Marathon runners, and all the wonderful fundraisers whom some have totted up a total of 350 miles throughout the year!
Our SASH Charity supporters are simply incredible and combined have raised over £19,000 for Surrey and Sussex Healthcare NHS Trust this year.
We asked some of our runners why they ran for SASH Charity and any advice they have for those who are thinking about running for us in the future. Here is what they had to say…
Kate Stringer, clinical lead midwife at SASH gave her reasons for joining the virtual marathon team "I have always wanted to run the London Marathon. This year seems a great opportunity and I have other friends at SASH who are running so that will help my motivation!" Kate described SASH Charity as "Such a fantastic resource. In maternity we are being assisted to have a fabulous new staff room".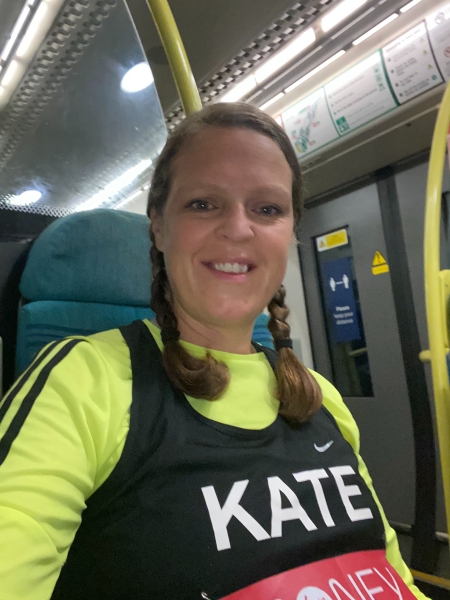 Running a marathon can come with its challenges and Kate recalls the day as "Hard! But such a great achievement and I loved running with a great supportive group of friends. I enjoyed the virtual route as we could design our own day and ran from Caterham to central London."
Kate's advice for anyone considering running for their local hospitals is:
"Go for it! Its hard but such an achievement to do once in your life…..Great to run for SASH charity; such a supportive group of people, and a way to get to know other colleagues at work" Kate Stringer – clinical lead midwife (SASH)
Josie Davies, who ran a total of 350 miles from July to October to raise funds for our neonatal unit gave her account of the final 26.2 miles at the London Marathon and described the atmosphere of the day. "On the day the weather was perfect up until about 2ish when the heavens opened but didn't dampen the spirits. The crowds just carried on screaming out the runners names, it was electric. This was my 14th London Marathon and as always it didn't disappoint, in fact it was more exciting than ever, especially after the year we have all had. It felt like the whole of London has come out to support us. It's a wonderful experience running among thousands of people raising money for their chosen charities."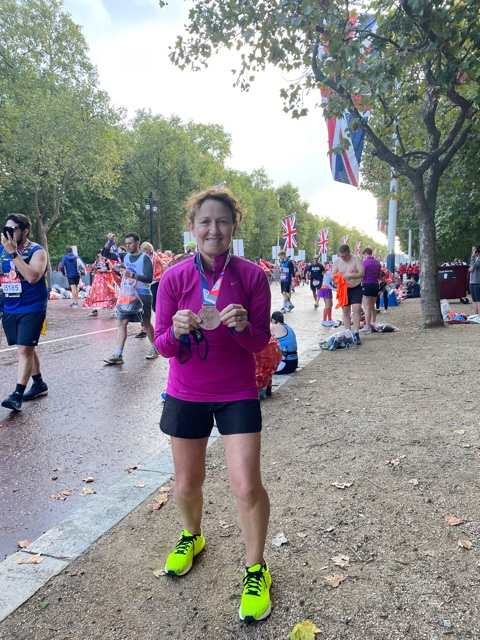 Josie had chosen to run for Surrey and Sussex Healthcare NHS Trust for her granddaughter, Ava and explained the importance of our neonatal services. "SASH has become extremely important to me since my precious granddaughter was born 7 weeks early back in June. The SCBU took care of our Ava and my daughter Nikki and her partner Dan. The staff supported them both through the most worrying times and cared for Ava through those early weeks, and then on to aftercare when they all returned home. As it was Covid and I couldn't be there in person to support them I knew that they were in good hands."
Josie's words of advice for anyone wishing to run for SASH Charity is: "I would just say to anybody wanting to run for SASH just do it !!! We were grateful to be able to have the opportunity to give something back to you for what you did for my Nikki, Dan, baby Ava Bree and all our family."
"Race Day was amazing just simply the best. From start to finish it was emotional, inspirational and overwhelming and even more so when you know the money you have raised will be going to such a great cause." Josie Davies, Olive's appeal supporter
Louise Ragless, BA customer service supervisor, decided to run for SASH Charity as a way to keep active and achieve a goal. It was the training which kept Louise occupied during the tough times of COVID-19. "I wanted to challenge myself and in lockdown, I have needed something to work towards to give me motivation".
Louise wanted to fundraise for her local hospitals to say thank you to our amazing NHS staff. "I have seen the appeals to support NHS workers and wanted to support the hardworking staff after all they have done over the last year and more with COVID-19. I feel the hospitals have had a hard time recently and deserve all the money we can raise to help them through this tough time. They have always been great and I've recently met a lot of people working there and everyone is friendly and welcoming despite the long and hard hours they are currently doing. So thank you to everyone working in our hospitals."
Kate Knight, who ran her 85th marathon has completed the London Marathon since 2004 and plans to run her 100th marathon in time for 2022. Kate says, "London marathon is very close to my heart, very inspiring and easy to get to, it is fantastic being one of the larger events, the atmosphere is superb with great crowd support."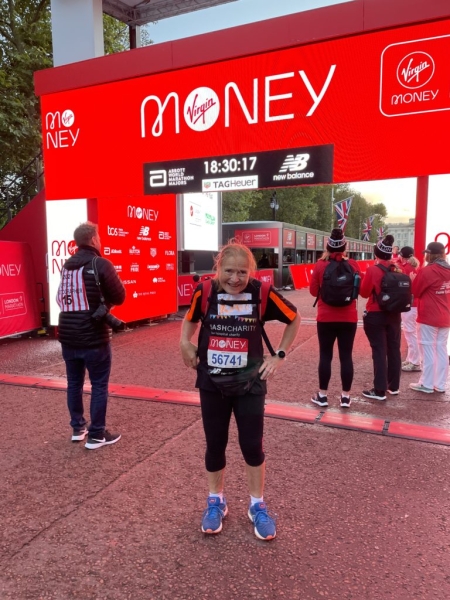 Kate has been fundraising for SASH Charity for over 4 years and feels passionate about how making a difference truly helps to enhance services. "Sash charity is a fantastic charity to support, not only is it our local hospital, I have also been working for the trust since 2008 and been an inpatient on numerous occasions, to me this is an ideal way to give something back and offer maximum support to such a fantastic hospital.
For anyone considering running for sash charity, I would say this is a fantastic charity to support, it is the local hospital in the area. Running in London, the atmosphere is superb, there is a huge amount of crowd support out there. It is important to pace yourself properly so there is enough energy for second half. To me it still feels both emotional and a huge achievement to reach the finish, the feeling is very electric and inspiring coming past Buckingham Palace on the final turn into the finish."
"For anyone considering running for sash. I would say go out there, enjoy the day, the crowds and the achievement at the end"
Kate Knight – bank nursing and admin assistant (SASH)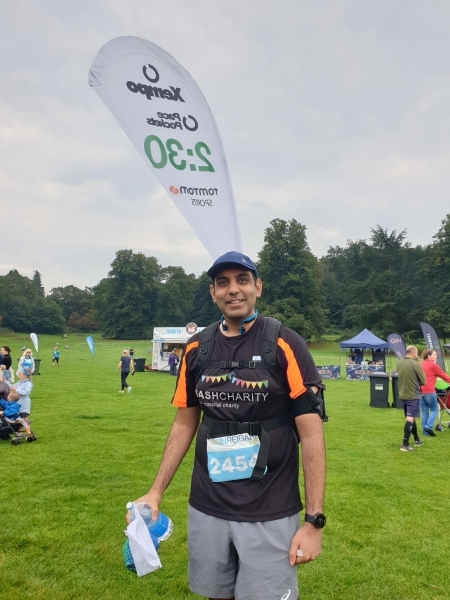 Anish Modgil, has run a variety of races this year to fundraise to support Surrey and Sussex Healthcare NHS Trust. "I run marathons for charities and I have a passion for running and helping the NHS to help with clinicians and patients". In total, Anish has run; seven marathons, eleven 1/2 marathons and ten 10k races all over the world.
Anish recognised the importance and the difference that can be made to patients and staff by fundraising. His ultimate goal was "To support those people in need both patients and staff especially during such difficult times with the COVID pandemic. Everyone needs some aid and a lifeline and I would like to do something amazing to raise money to help the charity fulfill its needs"
Thank you to everybody who takes on personal challenges whilst raising funds to help our hospitals go further. We are hugely grateful for your support.
Contact us at sash.charity@nhs.net to let us know about your own fundraising, or take a look at our events page to see some of what we've got coming up this year.