On Friday 8 March 2019, we were honoured to host Dame Judi Dench, for the official opening of the Camomile Courtyard.
Dame Judi, who is a long standing friend of the hospital, with strong family connections here, and a local resident, spent time meeting patients, visitors, staff, and supporters of SASH Charity. We are hugely appreciative of her taking the time to join us. Dame Judi spoke movingly at the event about why this was an important day for her, and her hope that the garden brings great joy to people.

Dame Judi said "I do congratulate everybody concerned, it is the most wonderful idea – to get out and just to be with people and to share the day, it's a lovely thing to do and I hope it brings much joy. I want to thank everybody who constructed the garden and everybody who works here too."
More photographs from the launch are available on our Facebook page.
It is thanks to you, and your support for SASH Charity that we've been able to completely refurbish this courtyard. Realising the vision for a safe, dementia friendly space for some of our older or more frail patients to use. Your support has allowed us to bring a previously underused courtyard back to life. Incorporating dementia friendly features such as step free non-slip flooring, raised flower beds containing plants to stimulate the senses, a water feature to create soothing sounds, bird tables and bird baths to attract nature.
The campaign brought together an incredible range of people and groups from the community here in Surrey and Sussex. This included individuals who fundraised or donated, community groups, churches, local businesses, other charities, Trust staff, choirs, and more. For a local hospital charity like us, this support makes a huge difference, and is really inspiring. Thank you!
You can read more about the opening event in our official press release here.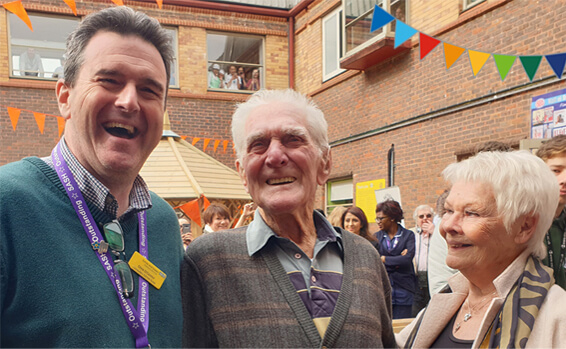 This was our first big appeal as a charity, and building on your incredible support, we are already thinking about what we do next. We are looking at how we (with you) can help support some of our youngest patients here, through supporting the expansion and transformation of the neonatal intensive care/special care baby unit here, alongside potentially helping to bring state of the art technology to East Surrey Hospital, creating a real impact for patients. Watch this space in the coming weeks for more information.
To hear the very latest from us, and be part of what we do next, please follow the charity on facebook, twitter, or linkedin. You can also sign up for email alerts at the bottom of this page. If you've got photos from the launch, we'd love you to tweet them using #camomilecourtyard, or to share them with us via our facebook page.
Thank you again for being part of making the Camomile Courtyard a reality!