A new rest area and wellbeing packs are being provided for Surrey and Sussex Healthcare NHS Trust (SASH) staff thanks to fundraising from the local community.
From running or cycling hundreds of kilometres to performing live lockdown DJ sets, the local community has rallied to raise over £50,000 to support NHS staff at East Surrey Hospital and the other SASH services as they respond to coronavirus.
Local people have been showing their gratitude with dozens of individual fundraising activities and local businesses all raising money for SASH Charity's staff welfare appeal, which hopes to raise over £75,000.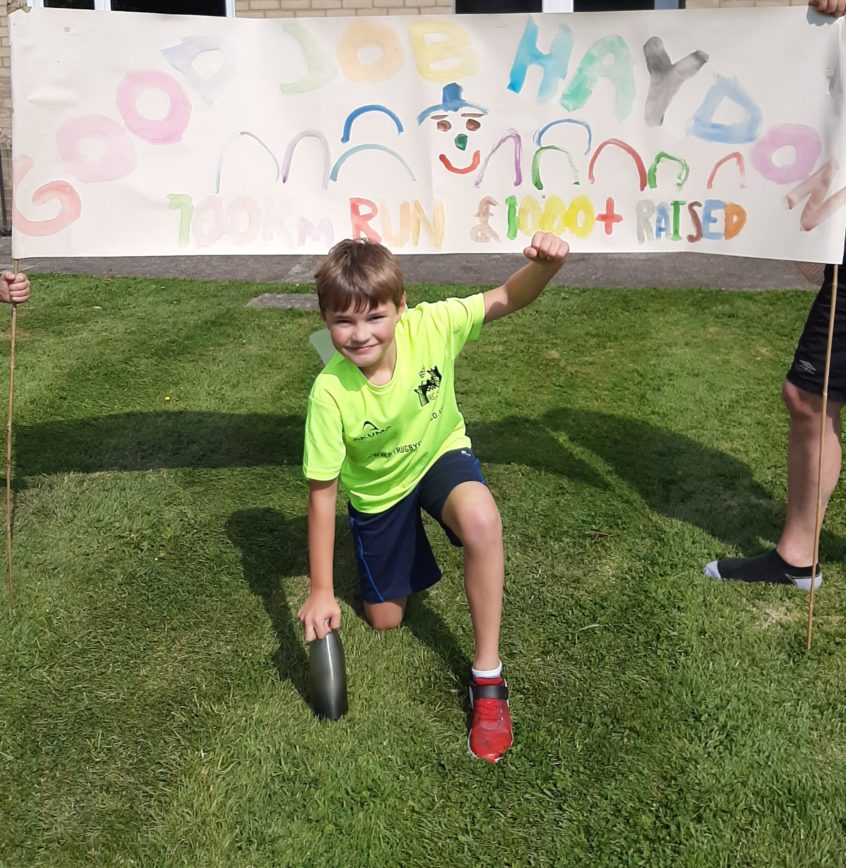 Nine year old Haydon Earl from Reigate has raised over £1100 running 100km during the lockdown. Haydon has been running in his garden and around his local area, after being inspired to raise money having seen the care at East Surrey hospital first-hand. He achieved his target of 100km on 15 May.
Charlie Earl, Haydon's mother, said: "Haydon's younger brother Austin hurt his knee on a trampoline so we had to make a trip to A&E. We had excellent treatment and Haydon said he wanted to raise money for East Surrey hospital as' they are all doing such a great job!'. We measured out a 25m line and he ran up and down 200 times to make 5km. The donations have really helped spur him on and we are all immensely proud of him doing this in these strange times. Living locally we have used East Surrey a few times and both boys were born there and we are so pleased this will help them. We really enjoy our Thursday night clapping and think of all the staff there."
Five year old Megan has raised nearly £500 cycling 6km just after learning to ride a bike without stabilisers. Her page says she is raising money "for the doctors, nurses and scientists for them to make people better quicker and for them to make the germ go away."
60 year old nursing assistant Kate Knight has run four marathons in four weeks around her local streets, while members of the Redhill Cycling Club have raised nearly £3000 by holding a virtual Lands End to John O'Groats bike ride over the weekend of 2-3 May.
Run Series, the organisers of Run Reigate and Run Gatwick, have also launched a virtual event encouraging people to fundraise for SASH Charity while doing their daily 'socially-distanced' exercise. You can find out how to join the SASH Challenge at https://getactivechallenges.com/nhs-sash-challenge/ .
Meanwhile, Gatwick Airport owners, Vinci Airports have provided a grant of £8,000 towards creating a new staff welfare room.
Elsewhere:
Caroline from Fable Photography, based in Reigate, has been taking pictures of families in their doorways and donating the proceeds to SASH Charity.
The Ashcombe Brass Ensemble has raised nearly £1,000 through a virtual performance
Oxted based DJ Jackinthebox has been streaming live sets to raise money for SASH staff.
Jamie Farley raised over £1500 by cycling the equivalent elevation of Mount Everest. Every penny raised up to £5k will be matched by his employer, Blackrock.
Caterham School held a lockdown quiz with 200 teams competing, raising around £7,000.
A new de-stress room for all staff at East Surrey Hospital, complete with massage chairs and indoor plants, is being funded immediately. SASH Charity is also purchasing wellbeing packs and foot massagers for intensive care and respiratory ward staff who spend long shifts on their feet.
While this will provide some immediate benefit and relief for hospital staff, the Charity is now asking all staff for their feedback on what would make the most difference to them so that the funding can have a lasting impact too.
Michael Wilson CBE, chief executive of Surrey and Sussex Healthcare NHS Trust, said: "I would like to say a very big thank you to everyone who is raising money for our staff. It's been relentless for our staff and these donations are allowing us to put in place some immediate respite while we get lots of feedback on how best to spend the majority of the funds. Not only that, but the stories of the fundraising efforts are spurring on our staff too – thank you."
Andrew Bickerdike from SASH Charity said: "So many people are doing amazing things for our staff, it's wonderful to see. It's been a very challenging time and thanks to the support from our community we can put in place some immediate benefits for staff while also working with our frontline teams to make sure the money supports them where it is needed most in the long term. Everyone at SASH would like to say a huge thank you to our local community."