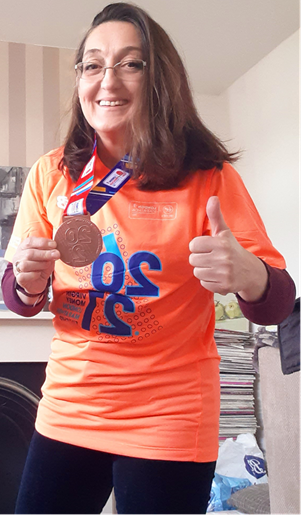 Vesna Hogan, senior clinical audit and governance facilitator at SASH combined a lifetime goal with her passion for artwork. A difference was made to her local hospitals by selling beautiful pieces of artwork to generate sponsorship for her challenge! This was all to make a difference for her colleagues at SASH, embodying our #oneteam ethos.
We asked Vesna what her reasons were for running the Virtual London Marathon. Vesna expressed to us "It was an inspirational and creative way to take part in London marathon. It was a great opportunity to take part in the biggest ever marathon. To run the 26.2 miles is a wonderful achievement, but to do it for charity makes it doubly rewarding. Running a marathon was a major lifetime goal for me … as they would say "one to tick off the bucket list". Taking part in the virtual London marathon meant doing the run nearer to home and enjoying the local scenery. Surrey is very picturesque part of the country."
After accomplishing 26.2 miles Vesna described the marathon as "an experience like no other" and provides insightful advice for others who are thinking about running for SASH Charity…
"Running for SASH charity is great fun and is a great honor. It is a way of helping others and my local hospital to enhance the care of our community. "
"Many people think that a marathon is beyond them and that they could never train for one, but people of all shapes and sizes, ages and abilities have successfully run a marathon. Setting the marathon goal, completing the training and then successfully running your race will prove to you that you can tackle almost anything if you put your mind to it. Join the local running club or find a good running coach to start you off on this incredible journey. Raquel and Andrew from SASH Charity are very supportive and they will guide you through the process of setting up your fund raising page or help you out with ideas how to raise money for charity."
Vesna recalls how training will help you to prepare for the big day, and to be prepared for the aches as you build up your activity levels. However, all the training was worth it, leaving us with a very poignant message "Pain is temporary, but pride is forever".
If you have a passion for creativity or would like to explore how you can turn your hobby into a fundraiser, please contact: sash.charity@nhs.net for support and more information.