Our colleagues across Surrey and Sussex have responded amazingly to the pandemic. It is only fitting that we say thank you for all of their hard work, supporting patients, colleagues and the Trust with the outstanding services they provide.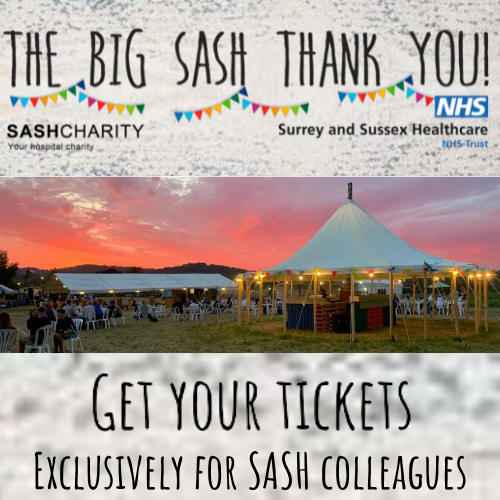 If you are a member of Surrey and Sussex Healthcare NHS Trust – we have a weekend filled of variety for you. You will also be able to bring up to two friends or family members, as well as your children.
Tickets are now available to book for free, so come and enjoy the music filled weekend on Friday 3rd September, Saturday 4th September or Sunday 5th September; the choice is yours.
Secure your free tickets here: https://flowerfarmpresents.com/
Discounted food and refreshments will be available on the day, as well as entertainment, variety acts and live music. You can find out more information on the booking link above.
Most of all, we look forward to seeing you all on the day – thank you!
Frequently asked questions:
Getting there
Venue: Flower Farm, Godstone, Surrey, RH9 8BP
If you are travelling by car, train or bus there is information on how to find Flower Farm here.
Travelling by car
Parking is free and you will be marshalled to the location upon arrival. Disabled bays will be available closest to the Flower Farm entrance.
Travelling by bus
The 410 Southdown bus runs from Redhill and stops directly outside Flower Farm. This bus will be FREE for SASH staff throughout the event – just show your Trust ID. Any non SASH-staff will need to pay. The 410 bus runs roughly every half an hour on Fridays and Saturdays, and every hour on Sundays.
When the 410 bus stops running in the evening, a free double decker bus is being provided by Southdown buses from the Farm to Redhill. This will operate every half an hour until 11pm. Please note spaces on this bus will be first come first served, so you may wish to stagger the time that you leave or arrange alternative transport.
The 409 bus also stops outside the farm.
Entry requirements
Please bring your SASH ID badge alongside confirmation of your ticket. You can display your confirmation email on your phone or print the confirmation email out.
All guests/children will only be able to enter with you and your SASH ID.
Upon entry, you and your guests will receive a wristband which will permit you to leave and re-enter the venue without displaying your SASH ID again. Guests will also be permitted to leave and enter with their wristband.
You will not need to wear a mask upon entry, but please bring a mask along which must be worn when attending indoor areas such as toilets and buses. We encourage hand sanitiser to be brought along on the day for individual use.
Please ensure you have completed a lateral flow test and it is negative either on the day or the day before your visit.
If you have any COVID symptoms you must not attend. You must self-isolate and book a PCR test in line with national guidelines.
There is plenty of space at the farm so where possible we ask that you maintain social distancing and stay two metres apart.
Be sure to write a thank you message on our graffiti wall as you arrive as a way of sharing our gratitude to one another.
Toilets and facilities
Toilets will be available on the day alongside hand sanitiser upon entry and at the food stalls
Accessibility
The venue is accessible with disabled toilets. There will be lots of seating available throughout the venue including under marquee cover. It is predominantly a grassy surface but mainly flat.
The live music and acts will be amplified and will be on the main stage. Across the three days any important messages will be made through the public address system.
Children and family entertainment
Giant noughts and crosses
Mini golf
Disney characters for photo opportunities
Games
Story telling
Punch and Judy show
Balloon modelling
Tug of war
Maize maze
Face painting
Stalls/ food and drinks
Discounted food and drink will be available all day from the farm's bar food menu and additional food stalls.
There's table service and you can order via an app from one of the bars across the flower farm site. We will share details of how to download the app at the event and across the Trust later this week.
You'll be able to order food and drink straight to your table or access the stalls across the site.
The farm cater for most dietary requirements, including gluten free, vegan and vegetarian options.
Please note that the farm will only be accepting card payments or payments via the app. They will not be able to take cash payments.
The farm have politely asked that guests do not bring their own food / picnics to the event.
Dress code
The flower farm is a grassy venue and we encourage you to consider appropriate dress and suitable footwear for all weather conditions.
First Aid
There will be trained first aiders on site at all times.
Lost child meeting point
In the unfortunate event of any children becoming separated from their parents or carers, the meeting point will be at the entrance of the farm and security will be informed to help reunite any lost children.
Fire safety and evacuation
In the unlikely event of a fire or incident, flower farm staff will be on hand to instruct guests to evacuate the site. All fire points and exits are clearly indicated across the site.
Are dogs allowed?
If they are kept on leads, the farm are happy for dogs to be in the venue.
Look out for Flower Farm staff and our SASH volunteers who will be wearing ID badges and hi-vis vests – they'll be on hand throughout the weekend to help and support you.
We hope you have a wonderful time.
We have an amazing line-up for you all over three whole days of family fun and entertainment. Below are timings of various musical acts and performers who will be playing on the main stage, marquee stage and first field at the Flower Farm.
Friday 3 September
Main stage
7pm The Rat Pack
8.30pm – Rick Parfitt Jnr and The RPJ Band
Saturday 4 September
12pm The London Street Band
1.15pm The Mariachis
2.15pm Comedy with Barbara Nice (marquee stage)
3pm Jive Aces
5pm Katie Markham as The One & Only Adele
6.15pm Neil Mack Band (marquee stage)
7.15pm The Ed Sheeran Experience
8.30pm Ultrabeat
Sunday 5 September
12.30pm Glamstar
1.45pm The Penny Drops (marquee stage)
1.45pm Kids Story time with 'Boogie & Me' (first field)
2.45-3.45pm Jamie & The Jets
3.45pm Stella & Fly (marquee stage)
3.45pm Kids Magic Show with Andy Hiccup (first field)
4.40pm Randy & The Rockets
Also on Saturday and Sunday children's entertainment will include Punch & Judy, balloon modelling and face painting.