Connie's Mum, Amy wrote this incredibly moving account of her experience of with Connie needing special care in our neonatal unit.
Amy has also helped raise funds for our neonatal unit through her work, and a local school.
We are very grateful to Amy for sharing such a personal story.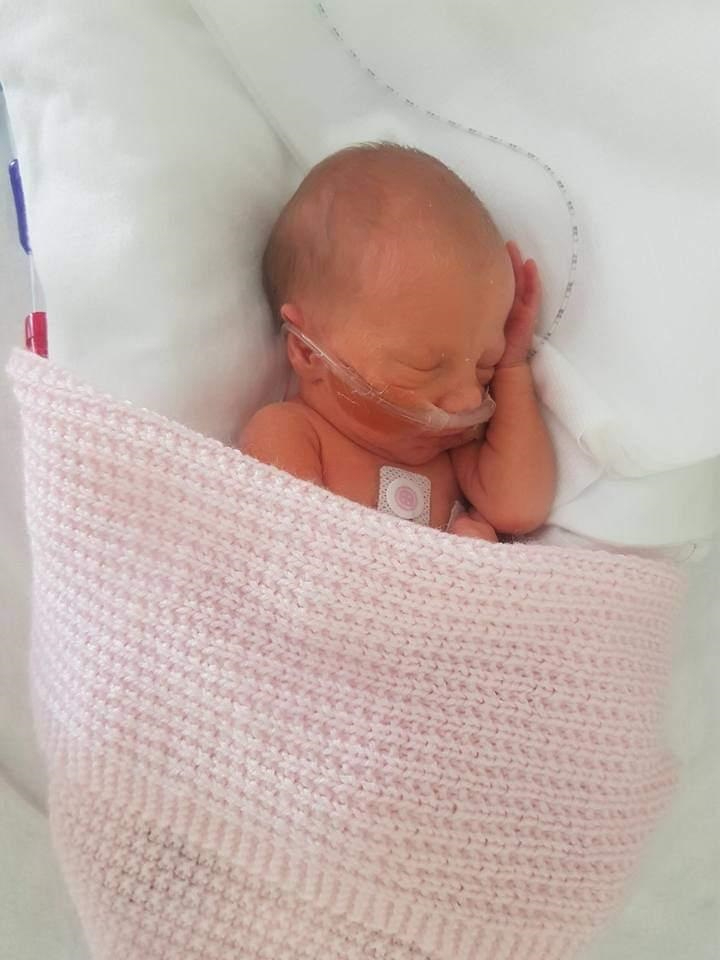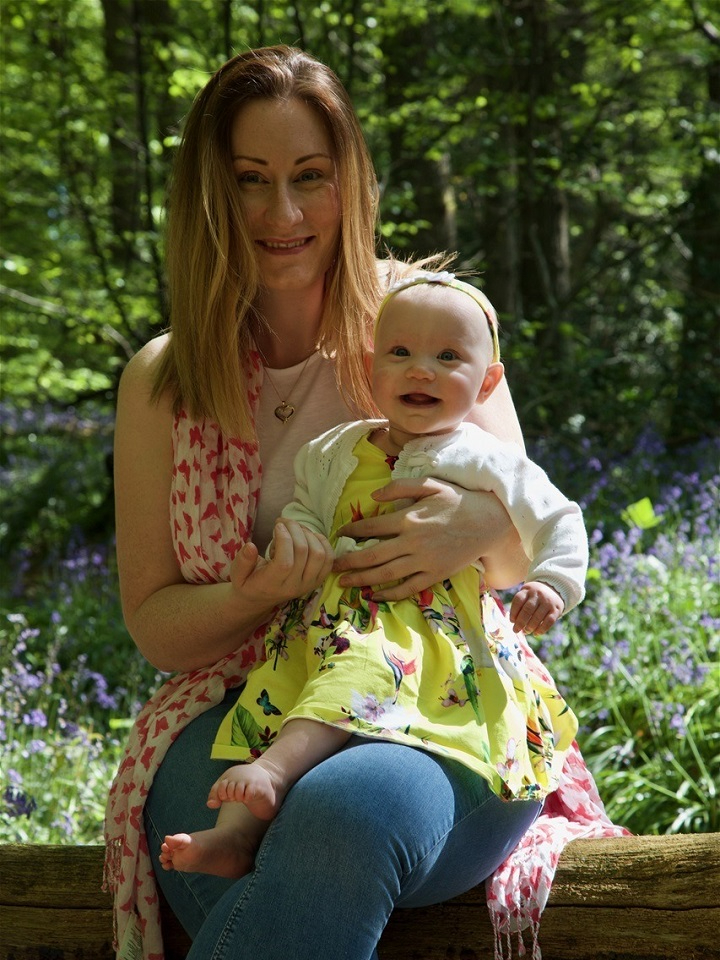 I'm hoping that by sharing our story we can help to raise money for the wonderful team at East Surrey Hospital that saved our baby. They are remarkable human beings and myself, Connie, Jim and our families are eternally grateful to them. Secondly, for any mother to-be reading this, if you feel something isn't right with your pregnancy– don't ignore it. Trust your instincts and it might just save you both.
I was 7 months pregnant – and I was not enjoying it. The first few months were amazing. I had beautiful ever-growing bump, my hair was thick and shiny, and I was glowing. We found out we were having a girl, which was always my dream. At 21 weeks I felt her move for the first time and it was pure magic. But by now, I was tired, swollen, and having the most savage migraines every day. One Friday evening after leaving work early with yet another migraine, I put my hand on my belly and realised she hadn't moved much today.
Actually, she'd hardly moved at all. Worried sick, we went straight to hospital. Of course, as soon as they strapped me up to monitor baby's heart rate, she started kicking! Not too concerned, they booked me in for a scan on the Monday.
The weekend passed, and I still did not feel my baby girl move about like she had been. What's wrong with you little one I said to her as I lay awake at night worried. By Monday morning, I was too impatient to wait for my scan which was booked for the afternoon, so I went straight to the hospital for monitoring, and later I had the scan. The lady told me my baby was very small. About two and a half pounds. The sack around her was very tight and she was stuggling to move, there was also little fluid around her. For the rest of the day, I lay on a bed with these pads taped to my belly They were monitoring her heart rate, which was showing abnormalities. It was dipping down to a very low level before shooting up again. They kept me in over-night, took countless blood pressure readings and samples, gave me steroids, more scans, and kept monitoring the heart rate.
The next day I was moved to my own room and waited. Waited, and waited. The whole time strapped up to this heart rate monitor. Jim, Ruby, mum and dad took it in turns to sit with me. A doctor came to tell me that they may have to deliver my baby that day. But I still have nine weeks to go, I said, two whole months! I can't have her now, I don't even have a pushchair! The doctor explained that my baby was not growing, and dips in her heart rate meant it was too risky to keep her inside, she needed to be out where she had a better chance. I didn't understand. I did everything right! No alcohol, no smoking, no pate or shellfish blah, blah, blah. I took all the right vitamins and drank so much milk and water, why wasn't she happy and growing?! A paediatrician came to see us. She explained the situation with regards to premature babies. She explained how my baby would be kept in an incubator, and if there were complications she would be transferred to another hospital. There was a lot more to this, only it went straight through me.. I was in shock.
For the rest of the day, I sat on this bed, in this room, strapped to this monitor in complete denial thinking they won't deliver my baby today, they're just giving me worst case scenario! I'll go home and she'll be break dancing in my belly again in no time. Later, I was told that they were not sure if they were going to deliver her, as doctors could not come to a final decision. Leave her in the womb and hope she will improve or bring her out and let science take over?
We'd been set on the name Connie for a while now. So pretty. My sister Ruby was to be my birthing partner. She was told she was all good to go home that evening as it was unlikely they were going to deliver Connie that night. She got home after a long drive in the pouring rain, but before she could put on her pyjamas, Jim phoned her to come straight back! They decided to get Connie out by c-section that night. After hours and hours of waiting, the night shift doctor came in to the room, intoduced himself, rubbed his hands togther and said "we are going to deliver you baby in half an hour".
I have two big fears in life, being paralysed, and being cut open (cringes). Well, I was going to have to endure both. Connie was breach and her heart rate was dangerously low now, I didn't care how they got her out, I just wanted my baby girl safe. Severe anxiety took over. I shook and sweated uncontrollably. Wow, my baby girl is coming, my baby girl is coming two months earlier than she should be! I hadn't been to an antenatal class, I hadn't researched breast feeding, none of the thing you're suppose to have done! However, through the sheer panic I remember finding it hilarious that Ruby had to scrub in and wear crocs into theatre.
After a spinal injection, everything went numb. All I felt was fear that my baby girl wasn't going to make it. The doctors and nurses seemed tense, and I felt a sense of urgency in the room that frightned me. Before I knew it, I heard a teenie, tiny cry. So beautiful and delicate.
They handed her to me so I could kiss her. She had a little pink chubby face, they'd popped the tiniest hat on her precious little head. A lady came over. She inroduced herself and told me she was going to take care of my baby. I trusted her immediately. Ruby was fantatsic and managed to keep me as calm as possible during this.
I was taken to recovery whilst Connie was taken away to the neonatal unit. I was told I could see her any time I wanted. At this moment I was more worried about the fact that I could touch my legs, but I couldn't feel them! I was so overwhelmed and in shock I don't think I really knew what was happening. After a couple of hours of rest, I asked to see my girl. I needed to be with her, yet I was terrified of forming any sort of bond in case she didn't make it. A midwife took me in a wheelchair to the neonatal unit. There were three rooms. One room, I called the "serious" room, formally known as 'intensive care'. The nurses wore dark blue. This room was dark, small, and quiet. Apart from the sound of beeping machines and the tiny wince of a newborn cry from one of the incubators every now and then, you could hear a pin drop. The second room I called the "getting better" room. The nurses wore pale blue. Somehow this made me feel that if you were in this room you was definitely going to be ok! It seemed brighter and bigger. And the third room, the "nursery" room. The nurses in here wore pink! Babies in here were getting ready to go home.
Connie was in the serious room. As the midwife wheeled me over to my baby's incubator, I stared, and I cried. For ages, that's all I did. I knew she was a tiny 2Ibs 14oz. She was breathing on her own and she would be here for a while. She was the most beautiful thing I had ever seen. There were wires, tubes, pipes, other medical equipment I don't even know how to describe. But I could still see that precious, innocent little face. She had a button nose and a bit of hair. So, so tiny. I had never seen a human being so small. Her little chest going up and down, being that small and she was alive and breathing, it's just unbelievable until you actually see it. The photos really do not highlight how small she actually was. I put my hands upon her incubator and told her I loved her.
I was not coping well. I was sore, exhausted and worried sick. I was still getting these horrid migraines and my blood pressure was high. Being in hospital was very difficult. The other mums on the ward had their babies with them. Their relatives would visit, I could hear them all celebrating their new family arrivals. And quite rightly so, but it was very hard for me to be around this. At night time I barely slept as all I could hear were the cries of babies and their mother's feeding and comforting them. I could not even hold my daughter. Jim became increasingly worried about me, and he insisted that I would be discharged. I needed to recover at home and be with my family. However, this hospital for the next six weeks was to become my home.
The unthinkable happened and Connie stopped being able to breath on her own. Her lungs were too under developed and she had to be ventilated. I was still in hospital recovering at this time. A doctor came to ask for my permission to give Connie special antibiotics to try and clear her lungs. Seeing your baby on a ventilator, through a glass container, is something that never leaves you. I was scared, and I cried so hard and so much I thought my heart was going to explode. But our little warrior got better. A few days later she came off the ventilator and onto something called CPAP to help her breath. Looking back, I do not know how and where we found the strength to keep it together.
Jim and I came in one morning to see her when a lovely young nurse asked if we wanted to hold her. I was terrified and turned to Jim telling him we cannot hold her – she is too small, she is too weak, she's covered in wires, this nurse doesn't know what she's talking about! But I was erratic and scared. Jim and the nurse reassured me this was a good thing and we needed to hold our daughter. When she was placed on my chest, her tiny head resting on my heart, we could feel each other breathe. It was the most intensely loving and overwhelming moment of my life. Oh my gosh, I am a mum, it hit me. This little girl needs me, and she loves me.
We were told if anything were to happen to Connie, we would be telephoned immediately. Well, you can imagine how dramatic I was every time the phone rang!
I spent all day, every day, by Connie's side. Apart from my daily trip to the canteen where I was spending a fortune (but my God their breakfasts were amazing), or popping out to update the family, I was there with her. And every day, walking through those doors into the unit was the most heart wrenching, terrifying feeling. I was nervous and scared. Scared that doctors were going to tell me something bad had happened, scared to see what wires and tubes Connie had in her today and what prodecdures she'd have to endure.
Eventually, as her lungs cleared, Connie was weaned off of CPAP onto optiflow (tubes of oxygen in her nose). She had to be fed sugar water until she was ready to have milk. I never expected in a million years I'd be able to breastfeed after having such a premature birth, being sleep deprived and the constant worry. My life had been turned upside down. The nurses were showing me how to express milk but I couldn't do it. It wasn't there.
One nurse suggested that along with some photos of Connie, I take home the little hat she'd been wearing, relax, and look at her, think about her, and I smell her. Not overly optimistic, I agreed. I went home that evening and got into bed. I didn't want to look at the photos of Connie. I had cried too much and the pain of missing her and the worry was getting too much. But, I knew she needed my breast milk. If she could get some of my breastmilk that would be the best thing for her. I can help her. l scrolled through the photos of my perfect, little princess and smelt the sweet smell of her little hat, and I felt her. I was connected to her. And my milk came. 'Jim, I'm leaking' I screamed, 'BRING THE SYRINGE!' The little milk I got, we managed to collect and at midnight we drove back the hospital, so Connie didn't have to wait any longer for her food. The nurse put it straight down the tube into her belly. And things from there only got better.
When you are a parent in a hospital room, you watch everything. And I mean every, little detail. You study every move and every word spoken by the nurses, the sounds and numbers on the machines, you find yourself comparing the other babies to your baby. You ask yourself – is my baby's heart rate too high because the numbers on another baby's monitor are lower? A baby that was next to yours the day before has gone, are they ok? Have they moved into the second room? I drove myself crazy asking myself all these questions, and I worried about every single thing. Connie was mildly jaundice at one point and had to go under a UV light. I'd worry that she was under there for too long. I'd worry every time she was sick, when she cried. One procedure she had to endure was to have a very small tube inserted into her body to provide nutrients. I remember the doctors could not carry this out the way they'd wanted, and in the end this tube had to go through her tiny little ankle, all the way up to her heart. This was an extremely delicate procedure and I was asked to leave the room while they did this. When it was eventually successful, Connie had blood on her ankle and I was so upset for her not knowing if it was hurting her. Sometimes you just feel so helpless.
Each person that enters that room, you analyse them. You watch to make sure they wash their hands, you wonder what they are going through, there was a very strange yet comforting atmosphere in the room when there were other mums left alone with their babies. I remember seeing a crying mother at her son's incubator, and I wanted to offer her some comfort, because I was going through the same, she looked back at me, her eyes filled with tears and she managed to smile, I smiled back through my tear soaked eyes. No words needed.
I was now producing milk every two-three hours. The doctors were increasing Connie's milk intake every day and I was struggling to keep up with her demands. After an entire day at the hospital, I was exhausted, in every way possible. I had to keep my body producing the good stuff. After a day at hospital, I'd go home, force myself to eat something – which was usually a take-away as were were both too knackered to cook. Jim had to go back to work, and I was spending 12 hours at the hospital. It was tough. I was still trying to recover from surgery and could barely walk to start with, nor drive. Jim would drop me off there by 7am before work, or I'd grab a lift off a friend. Every day started to become routine, like a working day. Nights were the hardest, having to go to sleep without my daughter was heart-breaking. I ached for her. I'd wake up at 2am to pump some milk, phone the unit for an update on how my baby was doing. Up again at 6am. Get to hospital, handover with the nurse, wait for the doctors to start their rounds – this was so daunting. There was a team of doctors and nurses with their clipboards, paperwork, equipment, and they'd go around to each baby to make a plan of action for the day/night ahead for them. I'd get to hold my Connie every day and this was without a doubt my favourite time. I was bonding more and more with her. By the end of the day I looked like a zombie, but hey, no different to any other new mum! One evening, Jim and I were leaving for the night. As we went to say goodbye, Connie opened her eyes for the very first time and looked straight at us. It was amazing. I burst into tears and Jim was ecstatic, got his phone out and took so many pictures, we never wanted to forget this moment. Her eyes were very dark brown. We spent ages just looking at her, talking and waving so she knew who her mummy and daddy were! The doctors and nurses were teaching me so much, as I had no idea what I was doing at first! I began changing Connnie's tiny nappies (I hadn't had much experience with this, and having to do it by putting my arms throught the incubator holes was quite fiddly, having to be careful of the wires. But it was funny when Connie's first number two arrived a little unexpectedley all over the glass.
After 10 days, I walked into the ward and when I saw Connie was not where I'd left her the night before, I went into sheer panic! I was then told she was moved into the next room, the "getting better room"! I was thrilled, things were getting better by the day. She was in here a good three weeks. Her job now was purely to grow. I was a little more relaxed now and I'd spend hours chatting to the lovely nurses.
Eventually, all wires and tubes were removed and I could see my daughter's beautiful face properly for the first time. She was so perfect. And she was growing and breathing all by herself. By now I knew most of the nurses and doctors by name. I sat and chatted to them in the coffee room at times, they were all so lovely and even passing by would ask how Connie was doing. When you spend that amount of time in one place, you become engrossed in everything, in your own little bubble. I got use to the smell of the place, the sounds, the people. Listening and watching everything day in day out, I felt like a qualified nurse by the end of it! Connie was making all sorts of noises by now, it was music to our ears, she was so precious.
Four weeks later, Connie was finally moved to the going home room, or the nursey as they call it. She soon started feeding from little bottles. I had to burp her, I could pick her up whenever I wanted and cuddle her, the scary part was over and it was just all so exciting. Family and friends came and went. One Friday afternoon a nurse told me she a feeling Connie will be going home next week. They were all so proud of her as she had done so well, they loved her to bits and it was so heart warming to see this. The following week, we were told that Connie was heavy and healthy enough to come home, providing she fed regularly for 24 hours from her bottles. Well, that was not a problem, she glugged them down and cried for more! Satisfied with her progress, we were finally allowed to take our daughter home. We could not believe we had reached this stage, it was just overwhelming. I was offered to go into transitional care, which is a fanatstic service offered by the unit where you stay one or two nights with your baby in a seperate ward, getting use to feeding them, caring for them, etc. I jumped at the chance. I was a brand new mum and due to some complications back home, Connie and I were to be living alone for the foreseeable future. I needed to know I was doing everything right! So I stayed in this lovely new ward for 48 hours with Connie, getting my first taste of sleepless nights! There would be a nurse on the ward 24/7 to help you if you need it, and needless to say they were fanstastic.
With lots to prepare back home, we were very busy getting ready to leave. A nurse helped us fit Connie into her car seat to ensure she would be safe for her journey home. We bought cards and chocolates which was a small token of our ever lasting gratitude to all the staff. We said our goodbyes, thanked everyone and left the hospital behind, with Connie in her car seat. I cried with a total mix of emotions – our real adventure was about to begin.
Connie is now 17 months old, she is cheeky, a girl that knows what she wants and will move moutnatins to get there! A complete foodie, loves her naps and is just hilarious and makes everyone she comes into contact with smile. An angel sent from heaven, and we are so lucky to call her our warrior princess. Thank to our wonderful family, friends who supported us at this time, every person who showed their support on social media and though this story is from my point of view, Jim was there for it all, and is the greatest father and though he felt like breaking at times, he kept me strong.
Above all, thank you to the fantastic doctors and nurses. Every single member of staff on that unit is an incredible human being. They took such safe, loving care of my daughter, and were so professional, despite being tired and working such long hours. They treated or helped treat, feed, cuddle, talk to Connie are all wonderfully different in their own ways, but they all have something in common – they care. In particular, Jackie, Sam, Dee, Gemma, Julia, and Kathryn, you made this very difficult time of our lives bearable, kept us going and saved our little girl. This is why I am raising money to help the running of this wonderful unit. To help save other babies and families like mine. I'm finally coming to the end of this article, five months later! What can I say? Life sure is busy these days, but I would not have it any other way!