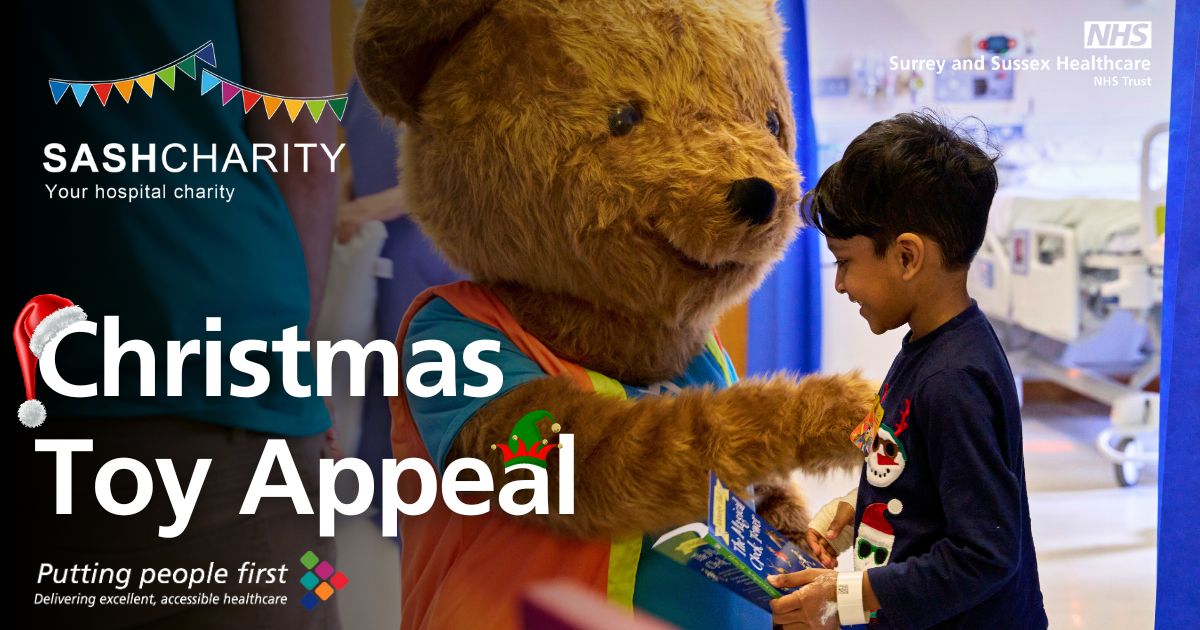 This Christmas, SASH Charity has partnered with East Surrey Hospital's health play specialists to support fundraising for new toys that will bring joy to the children in our ward. By contributing, you have the chance to make a lasting impact that goes beyond the festive season. Your donations can make a significant difference for our youngest patients, and we encourage you to explore how playtime can positively affect their wellbeing.
---
Your donation to the Childrens Appeal will help children in East Surrey Hospital to have the best possible experience, by enhancing the facilities in which they are looked after, creating new or improved spaces for children and their families, as well as supporting those fun but vital things which help a hospital stay feel more enjoyable - by helping us to upgrade the toys and games available where children find themselves in hospital. 
More children from across Surrey and Sussex are now cared for at East Surrey Hospital than at any time since the hospital was built. The team of specialist childrens nurses, doctors, and play specialists care for children from newborn babies, to toddlers, older children, and teenagers. We want to help them provide the very best for children, whether they are here for an emergency, a planned operation, or have a longer term condition requiring ongoing, or regular hospital care. 
With your help, we will
Transform a medical treatment room in the centre of the childrens ward (Outwood Ward)into a more child friendly space with new wall coverings, a sky ceiling, and additional equipment for play specialists and clinicians to use when explaining procedures to children of all ages.
Create a new parents room for families of children in the hospital - open 24 hours a day for parents to take a moment away from the clinical environment, to rest in a comfortable 
Help make our new Day Procedures Unit feel more like a dedicated childrens space. This is the area where children often come on the day of an operation, and where they recover afterwards. Donations will help us change plain white walls into brighter more fun designs, chosen by children in the hospital. 
Fund the FUN! We will upgrade the toys and play equipment, to help the brilliant Play Specialists support more children across the hospital. This will include providing an additional games console for older children, a sensory trolley, which particularly helps children with additional needs, as well as enhancing the other games and toys our play specialists use with children across the hospital.
The hospital cares for children with services from the Childrens Emergency Department, through to a dedicated childrens assessment unit, and a childrens inpatient ward (outwood Ward). Many children under the care of specialist hospitals elsewhere also receive much of their treatment (for example infusions, or regular blood transfusions) locally, right here here at East Surrey Hospital.
Donations to the childrens fund are designated for the purpose of enhancing care for children and their families in the area served by SASH NHS Trust. Any money remaining in the fund when the appeal concludes, or which cannot be used in the childrens services will support other charitable activities for patients and staff across SASH NHS Trust.